Service Request
If you require wheelchair services and are based in Western Australia, please click the button below to access the service request form. Once you've clicked the button, you will be directed to the form where you can enter your details and your specific request for wheelchair services.

Please note that our services are only available to customers located in Western Australia. After completing the form, make sure to click the submit button at the bottom of the page to ensure that your request is received by our team.

We will review your request and aim to respond as quickly as possible to arrange the appropriate services for you.
Custom Wheelchairs
Custom Fit Manual and Power Wheelchairs & Accessories
At Australian Mobility Equipment, we pride ourselves on being able to custom fit wheelchairs and equipment to the highest standard. Backed by over 30 years of industry experience and a fully equipped workshop, we are able to customise power wheelchairs, manual wheelchairs, cushions and custom fit accessories.
Our expert team can build out:
Manual wheelchairs
Powered wheelchairs
Paediatric mobility products
Wheelchair accessories
Seating and postural products
No matter what you or your client's needs are, we are well equipped to create the perfect custom wheelchair. We also offer premium aftersales support on our custom-built products with on-site service and repairs.
Contact Us Today
Whether it's as simple as an adjustment to a backrest or something as complex as a complete reprogramming to refine your electric wheelchair tilt and recline feature, we can do it all. To request a quote or find out more about our range of custom manual and powered wheelchairs for sale, contact us today on (08) 9249 7483.
Service and Repairs
Australian Mobility Equipment is dedicated to providing exceptional after-sales support to clients throughout Perth and the surrounding areas. Our team of expert technicians are equipped to handle a wide range of repairs and modifications for our products. From routine maintenance to more complex technical issues, we have the knowledge and experience to get the job done quickly and efficiently.
Our fully equipped workshop is stocked with a comprehensive range of spare parts and state-of-the-art tools to ensure that we can handle any repair or modification job. We invite all of our customers to visit our workshop for prompt and professional service. If needed, we can also arrange for the safe collection and delivery of your equipment.
Our friendly staff are always available to answer any questions you may have and provide expert advice on how to keep your equipment in top condition. Whether you need routine maintenance, repairs or modifications, you can count on us to deliver prompt, professional and reliable service that you can trust.
Clinic Rooms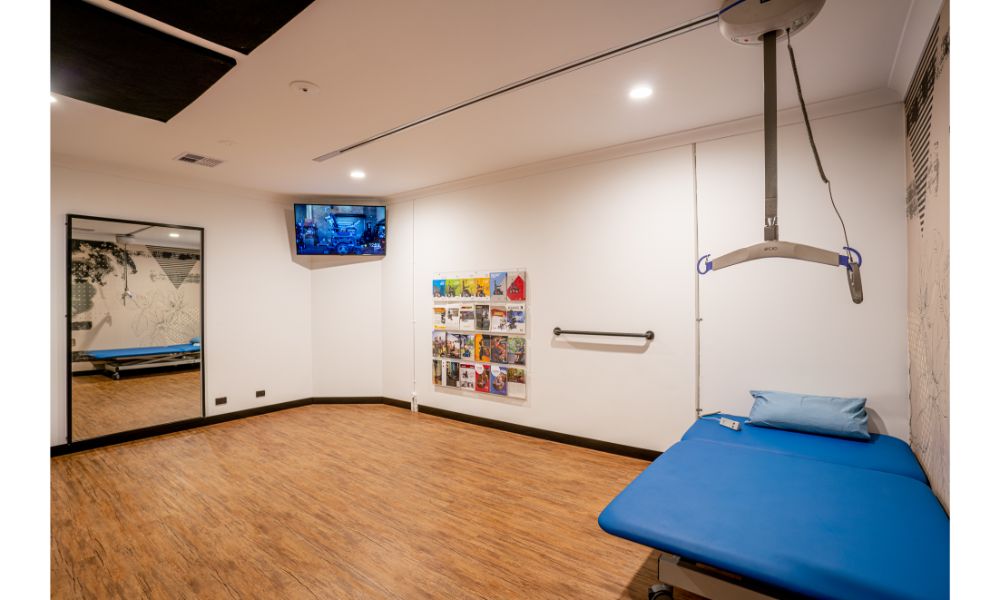 Our clinic rooms offer therapists a professional and comfortable space to conduct clinical assessments and meetings with their clients. All three of our clinic rooms are fully air-conditioned and heated, ensuring that clients and therapists are comfortable throughout their time with us.
Each clinic room has been designed to meet the specific needs of therapists and their clients.
Clinic room 1 is a dedicated pediatric room with a floor mat, sensory toys, a table, chairs, and a TV for screen sharing or entertainment.
Clinic rooms 2 and 3 are our larger rooms, with clinic 3 at 27sqm, suitable for adolescent to adult clients and provide a comfortable environment for both client's and therapists. Each room is equipped with a ceiling hoist, a plinth, a full-length mirror, handrails, a table and chairs, along with a TV to screen share or for entertainment.
Our clinic rooms are especially helpful for therapists who do not have their own clinic space. They can use our space for assessments, meetings, or equipment demonstrations with the support of our knowledgeable consultants.
At Australian Mobility Equipment, we are committed to delivering exceptional customer service and support. Our team is always available to assist therapists in selecting the right equipment for their clients and ensuring it is correctly set up in our clinic rooms.
By utilising our clinic rooms, therapists can enjoy a professional and welcoming environment, access top-quality equipment, and benefit from the support of our experienced team.
If you are a therapist looking for a reliable and convenient space to conduct assessments and meetings with your clients or to demonstrate equipment, please don't hesitate to contact us. We are dedicated to meeting your mobility needs and providing you with a comfortable and professional space to do your work